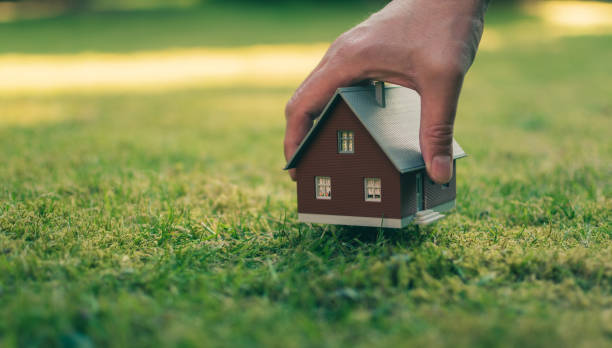 Loans to buy land
Have you ever been in a situation when you find a great piece of property – specifically raw, undeveloped land that can serve as a blank canvas for numerous opportunities – but are short on the resources necessary to effect an immediate sale?
In such a case, you ought to consider land finance in the form of a bridging loan to get the property you want ASAP.
What is land finance?
Land finance, also known as a land loan, falls under the category of bridging finance: those short-term loans primarily used to purchase commercial or residential property whilst waiting on the sale of one's current residence or any other owned property.
In this context, however, it is used for the immediate purchase or development of raw land.
What can a land loan be used for?
Land finance is necessary when you need to:
Immediately purchase a piece of raw/undeveloped / semi-developed land;
Raise necessary capital for different use, eg, development loans
Fund an ongoing planning application which will eventually lead to the land's development; or
Complete a purchase previously agreed upon based on plans already made.
How much can an individual or entity borrow when it comes to land finance?
The maximum amount you'll be borrowing will depend on the standards set by your lender of choice. In the UK, lenders can usually bridge between 65 to 80 per cent loan to value (LTV) against land; indeed, some can actually lend up to 100 per cent of the LTV with additional security. Again, take note that the actual amount you can borrow is dependent on the value of the security you offer.
In some cases, lenders can give you the option of securing against a second property on top of the land to be purchased. If the additional security is in reasonable demand, borrowers may be given reduced interest rates.
On average, lenders can let clients borrow between £25,000 – 100,000 with no maximum loan size within a week of one's application. Still, be sure to check with your broker, bank, or any relevant financial authority before securing a bridging loan to buy land.
Who is eligible for bridging loans to buy land?
As with any other form of bridging loan, land finance can be availed of by any of the following:
Individuals seeking to self-build on the site or to work on agricultural land
Offshore companies seeking a location upon which to build corporate or industrial structures;
Partnerships;
Limited companies, LLPs, and other corporate/industrial entities; and
Pension funds that are authorised to borrow monies for different initiatives.
How much will land finance cost me in all?
The total cost of land finance is dependent on the following factors:
Property location
How the land will be used and/or developed; and
If it has the right planning permission for its planned use or development.
For land considered a good location with the relevant planning permission for building or development, interest rates can run to about 0.95 per cent monthly. On the other hand, if a plot of land is in a less desirable location or doesn't have the right planning permission, one can expect to pay 1.25 to 1.5 per cent monthly.
(Note: Interest rates tend to be higher when buying land rather than developed property. This is mostly because land is a less liquid asset than property developed for residential or business purposes. Also note that interest rates are also dependent on the overall quality and desirability of the site in question.)
On top of the monthly rate, some lenders will charge clients a fee for arranging the loan – and the value of this fee can run between 1.5 and 2 per cent of the total loan amount. Be sure to check with your lender, though, as they can give a 1% discount on larger loans.
How hard can it be to secure loans to buy land?
Take note that while securing land bridging finance is no harder than applying for any other form of bridging finance, planning permission may spell a great deal of difference.
In most cases, getting finance for land without planning permission is more challenging than getting it for a site that has full planning permission. This is due to the inherent risk. Yet, keep in mind that some factors can help increase the appeal of land without planning permission. Among them are lapsed planning permission, the property's inclusion in civic development plans, or a potentially lucrative alternative use.
Note, however, that if planning permission is granted, you may need to refinance to development finance to proceed with construction or development.
Wait: so should I get planning permission first before I apply for a bridging loan to buy land?
Some lenders can release funds even without planning permission. However, note that most property investors, developers, and even potential homeowners will only agree to purchase land subject to planning. In which case, the potential buyer can only complete their purchase of the land once planning is granted.
Therefore, planning gain can add a great deal of value to the land even before you buy it. In such cases, some lenders can fund loans based on the augmented value and often require only a minimal down payment or don't require a deposit for the transaction to push through.
What requirements do UK lenders need from a potential borrower?
In general, lenders will ask potential borrowers or developers for the following information when they apply for land finance:
The individual or entity's current financial information;
Detailed plans regarding how the raised funds will be used along with the impact these may have on the borrower's finances;
Proof that the borrower can make repayments should they choose to pay monthly interest;
The borrower's credit history and credit score may be taken into consideration;
Proof of relevant experience from similar transactions; and
An actionable exit strategy.
Note that some lenders can offer funding to clients so long as the LTV is acceptable. However, one should understand that there is a chance that the loan application can be turned down if:
Some of the required information is lacking;
Previous issues regarding one's credit score;
Dubious state of one's finances and/or a low individual or corporate net worth; or even
A lack of experience regarding bridging finance, loans in general, or even buying land or property.
Will the lender take the suitability/desirability of the site into consideration?
Yes, they will. In fact, lenders usually ask the following questions when you apply for a loan:
Is the land you aim to purchase suitable as security?
What is the current or projected value of the land?
Do you have planning permission for the land?
Do you have an exit strategy involving the property and is it realistic?
In case your exit strategy fails, do you have an alternative plan for the land?
How soon can I get my loan?
Realistically, if the loan is to be used for buying land and you have yet to get started with the legal work, funds can be released within fourteen (14) days from the date of application.
On the other hand, if you seek to release equity from the land and/or require valuation, funds can be released in as early as seven (7) days from the date of application, pending your lender's approval.
What should I be looking at when it comes to bridging loans for buying land?
Potential borrowers should ensure that their lenders or brokers have relevant answers when asked about the following criteria:
Loans that cover up to 80 per cent LTV Loan, or even up to 100 per cent with additional security;
Funds raised can be used for a range of purposes including agricultural development, barn conversions, self-build, development plots, car parks, corporate sectors, retail enclaves, and residential clusters;
Monthly interest rates beginning at 0.95 per cent;
Loans from a minimum of £25,000 with no maximum loan size;
Borrowing/maturity period ranging from one month to as long as 24 months (two years);
Loan can be secured with or without planning permission;
Interest can be rolled into the loan;
No early repayment charges as much as possible;
Can be availed of even by those with less than desirable credit scores;
Any exit routes are acceptable; and
Loans are available anywhere within the UK.
What exit strategies should I take into consideration for land bridging loans?
As with any bridging loan, a proper exit strategy helps mitigate the risk of getting one's application approved. In this context, the following options may be presented as a viable way of closing costs on a loan:
Depending on how the land will be used, the borrower may opt to refinance to a commercial bridge loan;
Homeowners or developers can choose to refinance the loan to a self-build mortgage for a home or to property development financing for more elaborate projects; or even
The borrower can sell the land once planning permission is granted.
What should I look for in a broker or lender for land bridging loans?
We've discussed the requirements that lenders will ask of you if and when you choose to apply for bridging loans to purchase land. Now, let's look at what you should look for in a potential broker aside from the services they offer:
The one you choose must have proven experience in handling loans and other financial instruments related to real estate purchase and development;
Proven user experience evidenced in online reviews of the company's service or through professional and/or personal referrals; and
Financial Conduct Authority-regulated company with the relevant documents regarding their legitimacy.
Why should you consider The Bridging Loan Company?
Whether it's bridging loans for an immediate land purchase, financing for construction or refurbishment, finance to buy property at auction, or the necessary funds for buying a new home, the Bridging Loan Company has products to suit your needs.
Working with over 200 of the UK's best bridging development lenders, we offer numerous options for asset financing, auction finance, development finance, overseas bridging finance, and even home equity loan solutions.
From the simplest loan applications to more complex transactions, our highly-qualified and licensed team of registered brokers is on hand with the relevant information and expertise you need to make informed and prudent decisions when it comes to property and real estate.
Our team has decades of experience in the field and this enables us to provide a seamless service to our clients. In doing so, we try to make the lending and borrowing process as simple and as efficient as possible, steering you towards appropriate financial tools and instruments to make decision making easier.
Reach Out To Us
At The Bridging Loan Company, we make it a point to take all the guesswork and stress out of bridging finance. Supply us with the necessary information to get your loan underwritten right on time and within your budget. Use our development loan calculator to give you guidance on figures.
Ready to work with us? Click here to get a quote online or call 0808 301 9509 to get indicative terms within two hours of your enquiry.